Professional Brake Service You Can Rely On | North Palm Beach, FL
---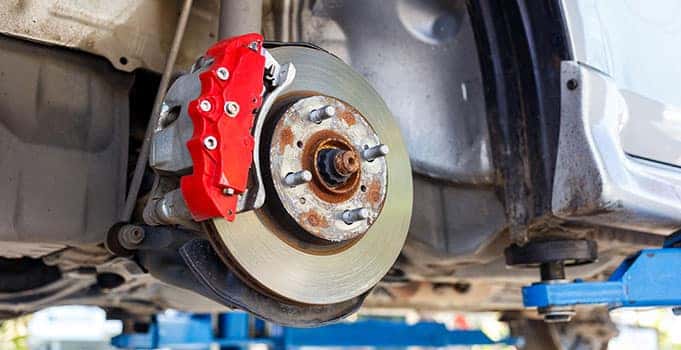 Whether you drive the iconic VW Beetle, the all-new Atlas, or another car, one thing you have in common is your need for reliable safety. And an essential component of your vehicle's safety? Properly working brakes.
Regular brake service is the key to confidence on the road.
But when should you have your brakes checked and what are the warning signs of a problem? Schumacher Volkswagen of North Palm is here to answers these questions and more.
Brake Maintenance: Your Questions Answered
When do car brakes need to be changed?
When you need to replace your brake pads depends on the make and model of your car, as well as how you drive it. However, in general, you should replace them after 50,000 miles.
If you encounter any of these warning signs, you should bring you car in for service and repair immediately:
Strange noises
Vibrations in the steering wheel
Dashboard light pertaining to your brakes
How are car brakes tested?
Our maintenance team follows these steps to test your car brakes:
Check your system to ensure brakes and brake pads are working properly.
Inspect wheels for brake dust.
Measure the thickness of brake pads.
Test the steering wheel and brake pedal.
How should car brakes feel?
You should look out for how your brakes shouldn't feel. If you notice any of these issues, bring your car in for service:
Vibrations in your brakes or steering wheel when you press down on the brake pedal
Soft or spongy feeling brakes
Car pulling to one side
What causes car brakes to fail?
While many problems can lead to brake failure, common causes include:
Oil leaks that affect brake friction
Overheated brakes
Over-worn brake pads
Where to fix my car brakes?
Choose the Schumacher Volkswagen of North Palm Beach service center, and enjoy friendly service, highly trained technicians, advanced diagnostic and repair equipment, and convenience. Because at Schumacher, our customers are family.
Book your next service appointment online. Have any questions? Contact us online, call us at (844) 783-3511, or stop by our dealership: 3720 Northlake Blvd., Suite B, in North Palm Beach, Florida.